Forex Trend Lines

Plotting a trend line on a Forex chart gives very valuable information.
Not only the trend line will show a current trend (direction) of the price move, it will also depict points of support and resistance levels for market price.
In addition, it will also help to determine good entry and exit points, best positioning for profit taking and placing protective stops.
This very simple, but yet quite powerful tool will be one of the crucial indicators of possible trend reversal (when market price starts move in the opposite direction).
So, shall we learn how to draw trend line to make it our good friend in profitable forex trading?

In the uptrend market trend line is drawn below the pattern formation; in the downtrend — above. (That is why when the trend is going to change our trend line will be crossed, which therefore will give us a signal that the price can start moving in another direction.)

In the uptrend, Forex trend line is drawn through the lowest swing-points of the price move.
Connecting at least two «lowest lows» will create a trend line.
In the down trend, trend line is drawn through the highest swing-points of the price move.
Connecting at least two «highest highs» will create a trend line.
Keep in mind that same charts may show slightly different "highs" and "lows" if you try to compare different Forex brokers. This can be explained by the fact Forex quotes often vary from broker to broker (it's a small difference, yet often clearly noticeable when it comes to drawing trend lines).
A trend line confirms its validity when the price respects this line. The more «lowest lows» / «highest highs» the trend line contains, the stronger it becomes.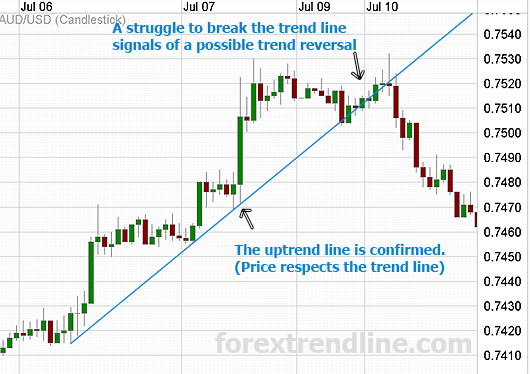 Another sample of drawing trend lines: main and inner downtrend lines.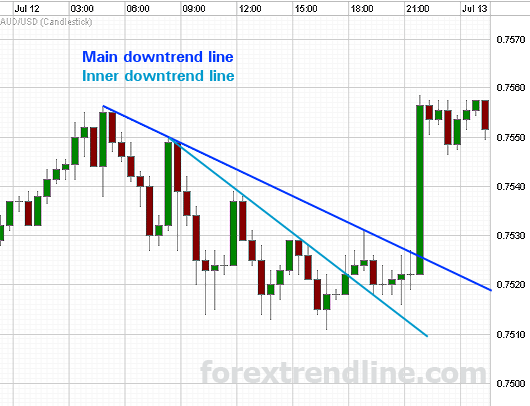 Learn more about Forex trend lines in the Trend Line Book — Free Forex eBook.
Good trades!
FX Leader

Copyright © Forextrendline.com All Rights Reserved
Forex trading is a high risk investment. All materials are published for educational purposes only.